Referee Schedule and Info
---
Referee Notes
**PLEASE NOTE For all officials under the age of 18**
Pay is processed on the 16th and the 1st (pending holidays and weekends). All timesheets MUST be submitted, no later than 5:00 pm on the 15th and last day of the month, to refassignor@moosominrangers.com. Any late submissions WILL NOT be paid until the next pay period, no exceptions!
Please contact both the referee assignor (Tim Skulmoski - refassignor@moosominrangers.com) and the ice scheduler (Mike Schwean - msmn.rec.brd@sasktel.net) with any game changes or cancellation
Officials are a key component of hockey - Referees, linespersons or officials are an essential element in organized hockey at all levels. Officials keep the game organized and fun, while providing players, parents and coaches clarification of the rules.
Young officials, like beginner hockey players and new coaches, are learning as they go. The Hockey Sask Officiating program brings young officials in every year to train and mentor in the hopes of them carrying on to a higher level.
If we didn't have these,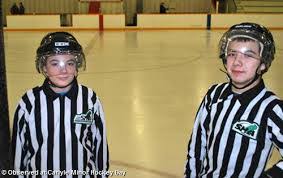 We would never have these.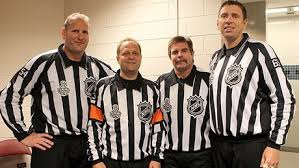 Referee Schedule
Please note that the below schedule is subject to change based on cancellations or reschedule. Please check back often.
IF YOU NEED TO CANCEL ANY SHIFTS ON HERE PLEASE TEXT ASAP. IF YOU CAN TAKE ANY OF THE OPEN GAMES PLEASE TEXT 306-408-0000 AND LET OUR REF ASSIGNOR KNOW!
Please see the link directly below for the LIVE and updated REF SCHEDULE.
As of 2023/2024, Official schedule will be considered FINAL as of Thursday @ 9am weekly. If any changes are made after this time a text or email will be sent to the official/official parent letting them know.